Title: Sweetest Regret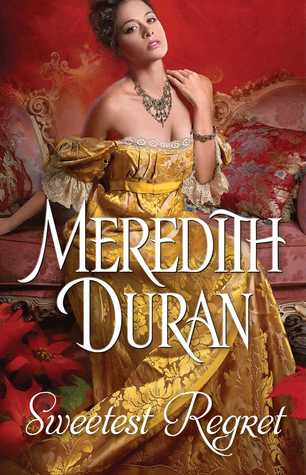 Author: Meredith Duran 
Genre: Historical Romance, Regency
Pages: 98
Published by: Pocket Star
Published Date: November 28, 2016
Sold by: Simon and Schuster digital Sales Inc.
ASIN: B01D8VHP5U
Publisher's Summary:
The spirit of the season is festive—and clouding even the sharpest of judgments—in this Victorian era romance, perfect for fans of Jude Deveraux and Sabrina Jeffries.
At a house party in the countryside, the joyful spirit of the Christmas season threatens to sweep Georgiana Trent under the mistletoe—and back into the arms of the dashing rogue who broke her heart two years ago. Little does she know that Lucas Godwin has no intention of leaving until he has reclaimed her as his own.
My Thoughts: As with all of Meredith Duran's writing, I enjoyed this one, too.  Albeit, short, since it is a novella, it was packed with humor, silly moments, outrageous dialog and above all, a sound happily ever after. 
The story begins a few days before Christmas.  Georgie has always, or so it seems, been alone at Christmas.  Her mother passed away years ago and she was virtually stranded to enjoy the season with the servants! 
Some years previous, she thought she'd fallen in love.  Lucas Godwin seemed to like her with her unusual intelligence and interests for a woman of the Regency period.  But Sir Philip was nothing more than a rogue and she, the duped one.  After 30 days of acquaintance and continued attraction, their time in Munich was a distant memory, nothing more.
Needless to say, Georgie was a bit sarcastic, embittered and thoroughly put out when her father who was to finally spend time with her at Christmas was called to duty, running off to some diplomatic tangle he was supposed to fix.  Georgie was left to entertain a bunch of foreign diplomats.  Her father also expressed concern about an important and vital letter which had gone missing.  He thinks one of the diplomats has snagged it.  It is up to Georgie to find it. The theme of the entertainment is for diplomats to enjoy the tradition of an English Christmas.  Just as she was prepared to take the bull by its horns, her father cabled additional instructions.
 I have ordered Lucas Godwin to join the party. He will find the letter.
The name Lucas Godwin set her heart pounding and not in a good way!  As far as she's concerned, he was nothing more than a silver-tongued snake. She couldn't face him. No, she wouldn't face him.  But then…she couldn't deny him entrance to her father's home.  Her father was his boss.  She'd been schooled to not lose her temper, to restrain her reactions.  She was the daughter of England's best diplomat. She was scholarly, deeply interested in the political scene, and not one to enjoy balls.  But under this façade, she is dynamite!
With this setting, all is chaos.  Georgie cannot hold her tongue.  She says all the outrageous things she can to rid herself of Lucas.  Lucas shoves it right back!  But they have a job to do – find the letter.  Once the letter is found, Lucas can be on his way.
This is a funny, uplifting story which kept me chuckling throughout.  In my opinion, Georgie and Lucas deserve each other and are perfectly matched, that is, if the truth can be discovered under all the rhetoric.